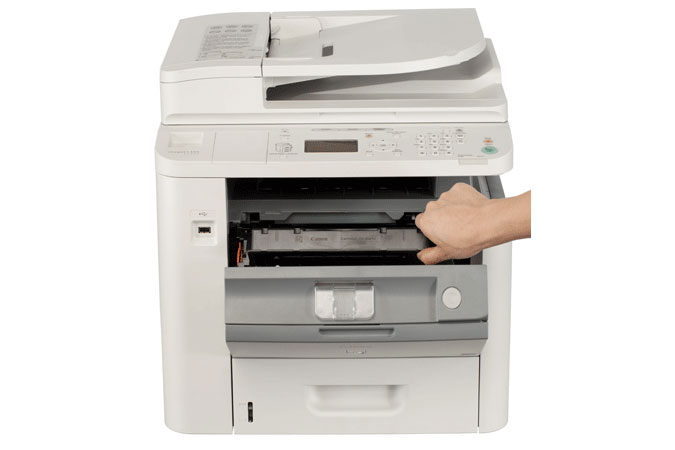 The vast array of printer options available in the printing industry today offers different functionalities suitable for small-time businesses, medium-scale companies, and multinational corporations. They seek the printing device that fits the requirement of their work and produces quality prints at low cost. Most consumers lean on multifunctional printers in the market since it incorporates the functionalities of single multiple printing devices to one equipment.
Canon released the imageCLASS D1320 Network All-in-One Monochrome Laser Printer — part of the D1300 series — in the market to allow the consumers to operate on a daily basis on a fast pace. It offers all-in-one functionalities with copy, scan, print, and fax to medium-scale businesses and corporations and provides efficient and flexible document handling solutions.
The imageCLASS D1320 is a compact-sized multifunctional printer which measures 17.8 inches wide, 18.6 inches deep, and 18.4 inches high, while it weighs 47.1 pounds with a cartridge and 45.3 pounds without. It also provides printer drivers to allow the computer hardware to communicate with the printing device and access the basic functionalities of the D1320 model. Canon released printer drivers which support Windows-based operating systems — Windows 7, Windows Server 2008, Windows Vista, Windows 7 2003, Windows XP, and Windows 2000, — Linux (limited to print function only), and Mac OS X 10.4.9 and its latest versions.
Significant Features and Specifications
Quick Printing
The imageCLASS D1320 laser printer warms up in approximately 17 seconds upon power on and produces text documents in about 8 seconds on first copies with the Quick Print First Technology. For larger printing operations, this printer can generate and copy documents up to 35 ppm (pages per minute).
Large Paper Supply
The D1320 model can accommodate a wide array of paper sizes and types of up to 1,050 sheets — a 500-sheet front loading cassette, 50-sheet multipurpose tray, and an added 500-sheet paper cassette. Canon designed the D1300 series with the single cartridge system which allows the users to replace a single consumable. It also produces high-resolution black and white text documents of up to 5,000 pages based on ISO/EIC standards.
Duplex Versatility
The 50-sheet Duplex Automatic Document Feeder enhances work efficiency by allowing the consumers to scan and copy double-sided text documents in one process.
5-line LCD Display
Canon equipped the D1320 model with a 5-row backlit LCD panel which displays animation on screen for fax installation, toner installation, and paper jam.
Energy Saver Mode
The users can reduce their energy costs and power consumption with the Energy Saving Mode of the Canon D1320 model. The typical energy consumption of this printer is 1.5kWH, while its maximum consumption can reach an approximate of 1,100W. Moreover, the energy expenditure of the Canon D1320 during operation is 550W and 9W on standby. Consumers can save an average of 2.3W with the Energy Saving Mode feature.
Copiers Repair and Maintenance
Proper maintenance of printing devices is essential for businesses and home offices to prevent problems and issues. Most printer units in home and office settings encounter technical issues since business owners and home employees overlook the significance of regular maintenance of printers or copiers. If a problem persists, several copiers repair services in the United States provide outstanding monthly equipment maintenance.
If you are in Philadelphia and you are looking for a Copier for your business, you may contact Clear Choice Technical Services in Philadelphia. You can ask about Copier Leasing Services in Philadelphia, Copier rental services in Philadelphia.