HP designs its printers and laptops to increase productivity and connectivity while saving money for a business. The HP Color LaserJet MFP E87660z managed flow MFP toner cartridges are equipped with JetIntelligence, which the company stated increases the speed and quantity of printed pages, reduces the energy that is consumed and adds extra security to operations.
The HP Color LaserJet is a multifunction printer; it allows you to print, copy, and scan. There is an option to add a fax to meet your business needs. What makes this printer stand out among its class is its duty cycle and printing speed. It can turn about 50 to 70 pages per minute, depending on the mode. Per month, the machine can print around 300,000 sheets.
It measures around 32 x 24.25 x 26.75 inches, weighs around 153 pounds, and it is built for small and midsize businesses. Small businesses will like its automatic two-sided copying, HP EasyColor, HP Color Access Control, image adjustments, booklet making, collation, and scalability features. The HP Color Access Control allows administrators to control who uses colour, how often the colour can be used, and other decisions to improve its efficiency. HP EasyColor adjusts the colour in images to make the highest-quality page is printed.
Its control panel has an 8-inch colour display with a touchscreen that you can use the same way that you use a tablet or smartphone. It has swipe navigation and scans and copies preview options. The display can be rotated, and it has an illuminated home button to get you back to the home screen easily. An extended keyboard is also included.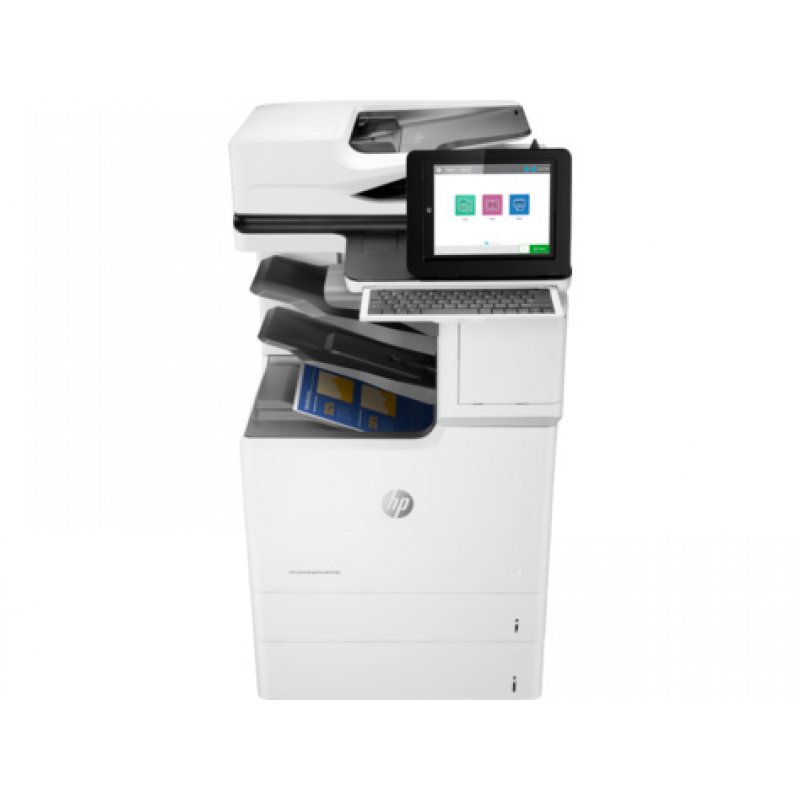 One-touch keys are another feature that makes this model easy to use; you can use keys to complete common copy and scan jobs that you can set up through Quick Sets. This is a helpful feature for saving the common settings for fast future use. You can also save your favourite settings for page orientation, print type, and type of paper. You can also save up to 25 Quick Sets.
The HP Color LaserJet connects to cloud services like Google Cloud Print, Apple AirPrint, HP ePrint, Microsoft SharePoint, and Mopria, allowing you to print or scan from these services. It includes the options to scan, email, save to the network folder, save to USB, send to SharePoint, send to internet fax, or send to FTP. This connection also gives you the flexibility to print from anywhere in the office, so it can help increase your efficiency.
The HP Color LaserJet is only available to be sourced through a contract lease; it can't be purchased. This entails the printer being leased and financed under a per-copy contract. Leasing can be a good option for small businesses, especially those that want to keep payments low over a longer period.
Leasing can be beneficial if a business does not want or need a copier for years. If anything goes wrong with the MFP during the time of the contract, maintenance is usually included in leasing costs, often resulting in lower costs than businesses might normally pay. To know how much the lease is, you can contact HP online. There is a form that asks for information about you and your business, as well as your timeframe and your budget.
When leasing the MFP to a business, HP offers onsite delivery for the next business day. Additional support options also include online automated diagnostics and tools, the HP Support Community, and support agents who can answer questions and address issues.
If you plan to get copiers for your office in Philadelphia, you can opt to buy copiers or lease copiers in Philadelphia We can give you the option to get the copier that you want. You can contact our local copier leasing services department in your location.
If your Location is around Philadelphia, you may call us at (215) 297-6363, our personnel for copier leasing in Philadelphia will assist you. If you are also looking for copier repair services in Philadelphia, you may contact our copier repair personnel at the same number.