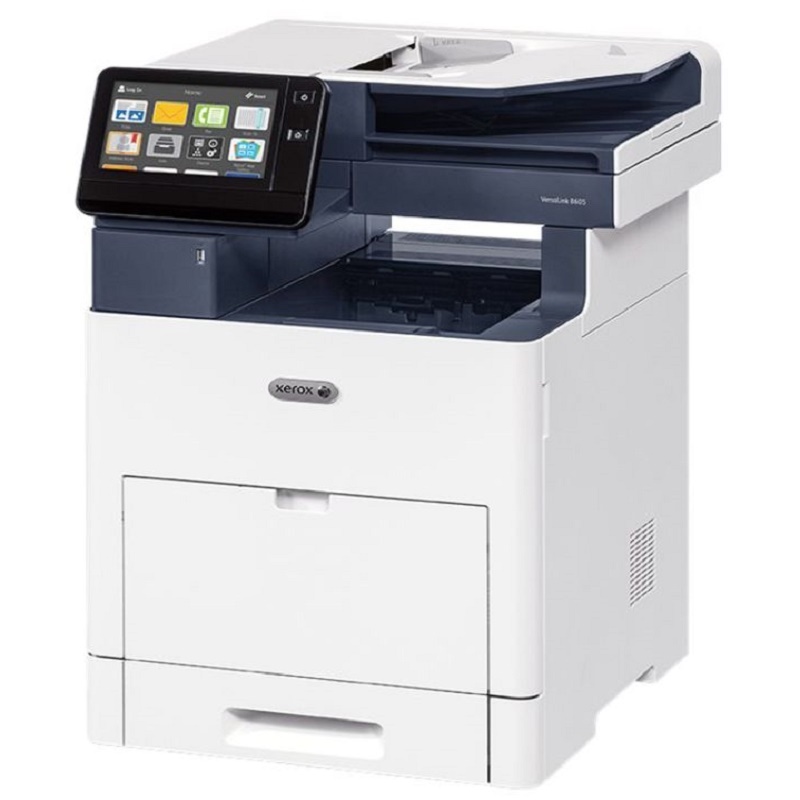 Xerox debuted its new Versalink printer and MFP line in 2017 that is made to help businesses that have limited IT resources. It is made to work with an easy-to-use and secure printing device. The Versalink B605 printer has a wizard that guides the user in setting up the device and connecting it to the serves. The B605 also integrates with cloud accounts and mobile devices.
The new Versalink B605 is a new high-volume multi-function black and white printer. It consists of a base model and four additional configurations. The base model of the Versalink B605 prints and copies up to 58 ppm, and it includes duplexing and networking. It also offers standard copying, printing and scanning functions. The printer includes standard faxing options too.
The Versalink B605 is the copy, print, and scan configuration that includes a standard 500-sheet finisher. It also has the print, copy and scan configuration that includes a standard four-bin 100-sheet mailbox. The B605 includes faxing and a standard 500-sheet finisher and it also includes faxing and a standard four-bin 100-sheet mailbox. The Versalink B605 includes the 2,000-sheet high-capacity feeder and a standard 500-sheet finisher. It also includes the 2,000-sheet high-capacity feeder and a standard four-bin 100-sheet mailbox.
The Versalink B605 comes with a 1.05 GHz processor, 2 GB of memory and a 250 GB hard drive. The printing languages that are supported include PostScript, PCL, direct PDF and XPS. The Ethernet, USB and WiFi Direct connectivity are standard. The Versalink B605 supports mobile printing. The users can print from numerous applications like Google Cloud Print, Apple AirPrint, Xerox Print Service Plug-in for Android and Near Field Communication devices.
The B605 also includes a 7-inch color touchscreen with a touch-and-swipe user interface that resembles mobile devices. They also come with an access to the Xerox App Gallery so that users can download specific applications to help customize one-touch printing tasks that reflect their workloads.
The B605 supports printing from and scanning to Microsoft OneDrive, DocuShare, Google Drive, and Dropbox. It also has strong features for companies that need multi-functionality but does not need color output. The printer has an easy setup and very low operating costs and it is dependable for a mobile office.
The standard paper handling for the B605 starts with a 550-sheet tray and a 150-sheet bypass. Depending on the configuration that is selected, Xerox offers up to four additional 550-sheet trays and a 2,000-sheet high-capacity feeder. Each tray supports paper size that is up to 8.5 x 14 inches, but the high-capacity feeder supports letter-sized paper. The maximum paper capacity is 3,250 sheets. The duplexing is standard and there is also the 100-sheet duplex automatic document feeder.
The standard output is a 250-sheet tray. Xerox offers a 500-sheet finisher that includes 50-sheet stapling and a mailbox that consists of four 100-sheet bins. Depending on the configuration selected, the finisher and the mailbox are standard. The maximum duty cycle is 250,000 pages per month on the B605.
The scanning features include scan to USB, to email and to network. The file formats that are supported are XPS, PDF, PDF/A, and TIFF. The faxing features include direct fax, LAN fax, and fax forward to email. Xerox includes a lot of standard security features like user authentication, secure print, network authentication, access controls, IP address filtering and more.
There is also the Simple ID feature where the users can access commonly-used applications on the home screen. The user is assigned a dedicated ID and password which they enter once. Xerox printers has some options in terms of its aftermarket print cartridges, high-capacity, standard-capacity and extra-high-capacity.
A lot of businesses can keep costs down by taking advantage of the environmentally-friendly features of Xerox like duplexing and choosing its Earth Smart settings as default for printing jobs.
If you need copiers in your office, you can opt for a copier lease. Copier leasing in Philadelphia can help you get the copier that you need. You can contact copier leasing services in Philadelphia for details.